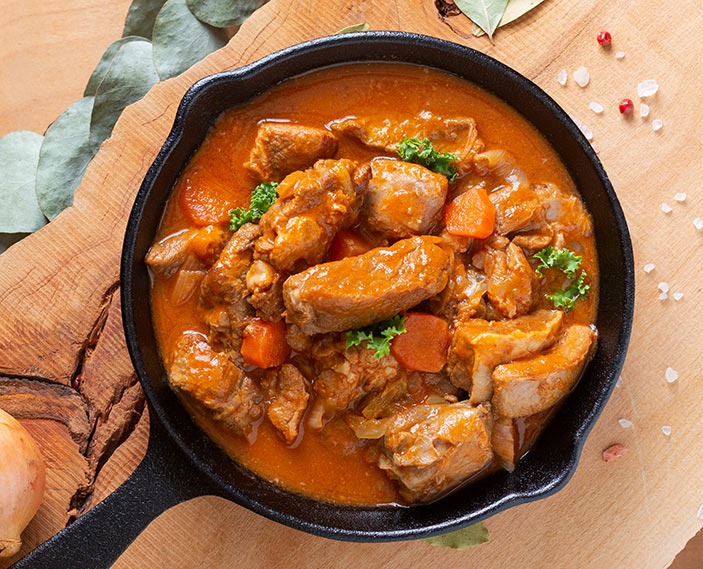 Ingredients for making beef ragout or beef ragout in red wine with vegetables, super tasty (4 people):
800 g of beef.

Choose a cut that is economical and for cooking, such as a skull or skirt.

A little wheat flour to flour the meat.

1 large onion.

2 cloves garlic.

500 g of carrots.

150 g of canned peas or 300 g of fresh pea pods.

1 sprig of thyme.

1 rosemary branch.

1 tablespoon dry oregano dessert.

500 ml of red wine.

3 tablespoons tomato sauce.

500 ml (or whatever you need to cover the ingredients) of homemade broth, whether chicken, meat or vegetables.

If you don't have it you can use water, and if you need recipes here is ours for homemade chicken broth and here is the one for vegetable broth.

2 tablespoons butter.

1 or 2 tablespoons dessert of fine cornmeal or cornstarch (optional).

Olive oil and salt.
Preparation, how to make the recipe for ragout or beef ragout in red wine with vegetables, super tasty:
1-If you have not diced beef at the butcher, do it at home, bite size. Season with salt and flour, shaking so that only a thin layer is left around.
2- Put the pot you are going to use over medium heat with a little oil and, when it is hot, roll the veal cubes. Let them cook and when they are golden you see them changing sides until they are golden for all of them. Leave them on a separate plate.
3- Peel the garlic cloves and onion and finely chop.
4 -Put the butter in the pot and put it on medium-low heat. Once it has melted add the garlic and onion and a pinch of salt and fry until they start to brown and stirring occasionally, it will take about 10 minutes.
5- Peel the carrots and cut them into thick slices.
6- Add the meat together with the red wine to the pot again. Raise the fire temperature so that it is strong and so the alcohol evaporates, it will take a couple of minutes.
7- Add the carrots to the pot together with the tomato sauce, the thyme and rosemary sprigs and the oregano. Mix everything and cook over medium heat until the liquid has been reduced by about half.
8- Add broth or water to almost cover the meat and cook the beef ragout. You have two options, slow and fast (and it is clear that both are equally delicious, there is no difference in taste and end result):
If using a normal pot, keep the heat on high until the sauce starts to boil and then reduce the heat to low, cover the pot and let it cook for about 1 hour or until you check that the meat is very tender, that it almost melts.

If you use a quick cooker like me, close it and put the fire on high.

When you have the valve raised or seen and on both pressure rings, reduce the heat and let it cook for 10 minutes.

The fire temperature should allow the pressure not to drop but also not to rise during this time.

When the time has elapsed, remove the pot from the heat and let the steam out slowly until it runs out of pressure with the nozzle or valve fully lowered and you can now open it.
9-Meanwhile, if the peas are fresh he sees them removed from their pods and removes the bulge they cause to be caught in the pod. When you take it off you will see that they are perfectly round.
10- In a pot put water until half and medium-high heat and when it is boiling add the peas and let them cook for 10 minutes. You can eat some (being careful not to burn yourself) to check if they are tender. Take them out with a whisk and set aside.
11- When the beef ragout is ready, add the peas and cook for another 5 minutes or until the sauce is to your liking. If it is very liquid you can always cook longer so that it shrinks or mix 1 tablespoon of cornstarch dessert with a little water and add it to the pot when it is boiling, this will help to thicken the sauce. If on the other hand it is very dense, add more broth or water.
12- Remove the sprigs of herbs and try the sauce in case you need to season with salt.
Serve and taste:
Serve the beef ragout very hot, either freshly made or even rested from the previous day as this type of preparation this time proves phenomenal, the flavors intensify even more. It is a dish that you can keep in the fridge for up to 3 days if you have leftovers and you can also freeze it
When you try the first piece of meat you know that you are in front of a platazo as it melts in your mouth and is juicy and very tender. Of course, it is not the real protagonist because the vegetables are very good and the sauce is better not to leave a drop as it has a very powerful and delicious taste. Accompany the dish with any garnish you like, for example some potatoes or a little white rice, or even just some good slices of bread. It's a real beef dish ... scandal!
Time: 1 hour and 45 minutes in traditional pot and 1 hour in fast pot




Difficulty: easy
Comments (0)
No comments at this moment